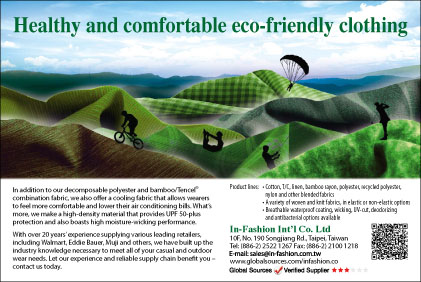 Share:




E-mail

Print

Bookmark
In-Fashion International Co., Ltd. (infashion)

Follow me

Triple 5 Soul and Playboy are among our buyers

3 Star Taiwan

Credit Check - Supplier Credit Profile

provides impartial credit and vital business metrics for select suppliers on Global Sources Online. Using the Credit Check reports, buyers can easily compare key indicators and more efficiently manage risk. Suppliers with a Credit Check logo have agreed to allow this information to be reported to help buyers streamline the selection and due-diligence processes.

The supplier information below has been obtained from relevant government agencies in the supplier's country and is subjected to change without prior notice. Credit Check and verification procedures were conducted by Sinotrust, a third-party credit agency.
Read Disclaimer


Registered Address:
10F., No.190, Songjiang Rd.,
Jhongshan Dist., Taipei City 10467
Taiwan

Incorporation Date:
March 06, 1996
Legal Form:
Company limited by shares
Company Status:
Live
Registration Agency:
Taipei City Government
Registration Number:
No.96942887
Authorized Capital:
NTD 10000000
Paid-Up Capital:
NTD 10000000
Legal Representatives:
HUANG, SHUI-LI
Import & Export Licences Obtained:
Yes
Business Scope:
Wholesale of cloth, garments, shoes, hats, umbrellas, costume and accessories; Retail of cloth, garments, shoes, hats, umbrellas, costume and accessories; Non-physical stores retail; International trade; Apart from permitted business activities, business operations that are not prohibited or restricted by law can also be engaged.
Shareholders:
• ZHOU, WEI-ZHI
• HUANG, AI-ZHU
• HUANG, TAI-FENG




Want a more detailed Credit Report on this supplier?



Authenticated and verified by:
Sinotrust


On April 27, 2010

Contact Details




In-Fashion International Co., Ltd. (infashion)
10F, No. 190, Songjiang Rd
Zhongshan District
Taipei
Taiwan
Tel: (886 2) 25221267
Fax: (886 2) 21001218


E-mail:

Homepage Address
http://www.globalsources.com/infashion.co




Key Contact:
Hwang, Melody
Director



Supplier and product information updated November 26, 2013.
Verified Business Registration Details
Registered Company: 迎華軒國際股份有限公司
Business Registration Number: 96942887
Company Registration Address: 臺北市中山區松江路190號10樓  


* In some jurisdictions, company names and addresses are registered in Chinese only.